Bristol mayor's spat with Geoff Barrow of Portishead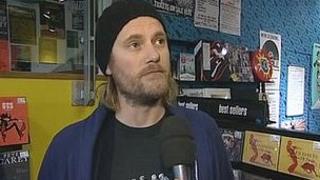 Bristol's mayor George Ferguson has accused Portishead's Geoff Barrow of being a "wind-up merchant" after an online argument between the two.
The Bristol-based musician was blocked from tweeting the city mayor's account on Tuesday night.
The pair had been discussing the Bristol Arena project which recently failed in a £40m funding bid.
The mayor said he took similar action for a "few abusive time wasters" but welcomed "reasonable debate".
Mr Barrow, who tweets under the name @jetfury on the social media website, tweeted to say he was blocked from the city mayor's account for "asking him questions".
He tweeted that he had asked Mr Ferguson whether his work was only any use to people living close to the city centre.
Unblocked 'for now'
But as the online exchange continued, he also asked the mayor "not to ever use my name to promote his vision of Bristol's future".
Although Mr Ferguson admitted the musician had been "great culturally for Bristol" he said he "just got bored" with his "grumpiness".
"He was trying to wind me up - they weren't genuine questions," he said.
"He had no other motivation than to have a go. He's a wind-up merchant, the clue is in the name [@jetfury].
"He's a grumpy tweeter and should grow up."
Mr Ferguson has since tweeted that he would be "happy to meet" Mr Barrow to "see if can have more sensible exchange" than on Twitter and has unblocked him from his personal account "for now".
Mr Barrow, in reply to the BBC on Twitter, said the story was not "newsworthy" and would not comment further.