Campaign to save vintage pleasure cruiser Balmoral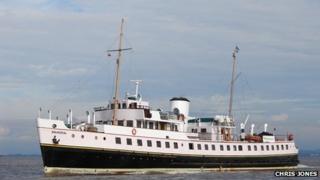 A vintage pleasure cruiser moored in Bristol docks may never sail again if funds for a refit are not found.
A campaign to raise £350,000 for the Balmoral has now been launched so the boat, built in 1949, does not lose its passenger licence.
Campaign fund director Nick James said: "If the refit is not carried out by the summer of 2014, Balmoral will lose her passenger certificates."
The fund was set up by Waverley Steam Navigation Company who owns the ship.
The Balmoral, which is a member of Britain's National Historic Fleet, offers day trips and evening cruises around the Somerset coast and also sails to Lundy Island in the Bristol Channel.
'Maritime heritage'
But the ship has not sailed since the end of the summer season in 2012, due to a combination of issues including bad weather and a lack of money to carry out essential maintenance.
Nick James said if they were not able to raise the money it would be "a tragic shame for our maritime and cultural heritage".
He added: "We've had some wonderful summer weather recently and it is unfortunate the Balmoral was unable to sail.
"I am urging people to get behind the campaign now and help save the Balmoral. We desperately need more volunteers - every little helps and will make a big difference to our cause."
The ship carried almost 20,000 passengers in its 2012 season and the campaign hopes the cruiser will be back in service in 2014.