RSPCA offers £25 'Staffie' neutering to Bristol people on benefits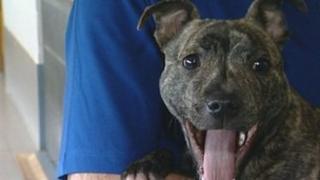 A charity is offering cut price Staffordshire bull terrier neutering to Bristol people on benefits to try to reduce the breed's population.
At present 60% of the animals at the RSPCA's Bristol Dogs and Cats Home are "Staffies" or "Staffie" crosses.
The RSPCA is holding roadshows in Hartcliffe, Knowle, Southmead and Barton Hill to promote neutering as part of responsible pet ownership.
Owners will be asked to pay £25 for the service.
Mandy Stone, from the Bristol Dogs and Cats Home, said the roadshow was visiting the four areas because they had been identified as areas with particularly high "Staffie" populations.
'Status dogs'
"They have become status dogs and that is part of the problem," she said.
"Because they are being bred indiscriminately and irresponsibly, the puppies have to go somewhere and a lot of them are ending up being abandoned and ending up with us."
The neutering offer comes as the government proposes life prison terms for owners of dangerous dogs that attack and kill people.
Neutering normally costs £100 at RSPCA clinics and up to £200 at a private veterinary practice.
James Beaufoy, from the Staffordshire Bull Terrier Club, said he was "very much in favour" of the RSPCA's initiative in Bristol.
"They're doing their best to control the problem... It's not the dog's fault, they are completely in the hands of their owners.
"If they behave badly in public it is entirely the fault of irresponsible ownership.
"This is nothing to do with the true Staffordshire bull terrier... It's one of the best breeds in the world.
"It's just this status thing that's taken over in certain areas is causing all the trouble."
The cheaper neutering is available to those on housing benefits, council tax or pension credits.