Bristol RPZ: Redland scheme to be reduced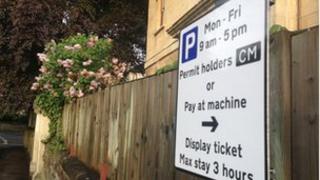 Parts of a planned residents' parking scheme for Bristol will be reduced, the city council has announced.
Mayor George Ferguson wants to implement a blanket roll out of parking zones within the next 18 months.
The Redland area has been reduced in size while Clifton West and Clifton Village will now be a single zone.
The parking scheme will mean residents will be asked to pay £48 to park outside their houses for one car and £96 for a second permit.
The zones are designed to halt commuter parking in Bristol's streets.
But the plan has come under criticism from some residents' groups and business who have complained about a lack of consultation.
Under the new proposals the outer boundary for the new Redland area will run across the green leaving out Westbury Park and streets around Coldharbour Road.
The remainder of the zones will retain the boundaries from the original proposals.
'Keep listening'
Formal consultation on zones in Bower Ashton and Cotham north will begin next month, while views will be sought on the Redland scheme in October.
In Cliftonwood and Hotwells the formal consultation is planned for November with others in 2014.
"I promised to keep listening, and I will continue to do so," said Mayor George Ferguson.
"In return, I ask residents and businesses to be patient while we work through their feedback.
"It is vitally important to take a structured approach so that we can represent the balance of needs in the final proposals."
At present RPZ operates in Kingsdown, Cotham and central areas of the city.