Nine tonnes of Bristol University 'student waste' given to charity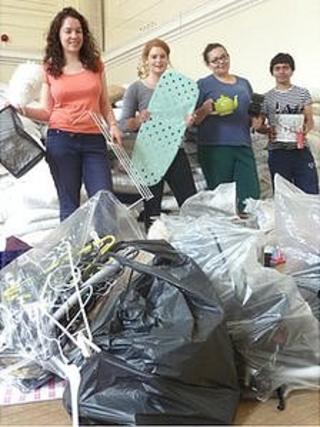 Nine tonnes of unwanted items worth more than £16,000 have been collected from students in Bristol for charity.
Clothes, food, kitchenware and bedding were among the items collected as part of the Bristol University scheme.
Set up to promote the reuse of items at the end of term, it also raises money for 12 different charities.
Elena Lynch, one of the organisers, said: "Instead of ending up in landfill many of the items will be used directly by people in need in Bristol."
The Big Give is organised by the University in partnership with UBU Volunteering and Bristol Hub charity network.
St Peter's Hospice, The Salvation Army and the RSPCA are among the charities to benefit while more than 1,000 bags were donated by the university to the British Heart Foundation.
"It's really encouraging that it's been a record-breaking year, as the Big Give aims to reduce the amount of junk discarded by students at the end of term, an issue which we appreciate is a big concern to local residents," said Jemma Harford, from UBU.