Bristol Rovers legend Geoff Bradford statue campaign launched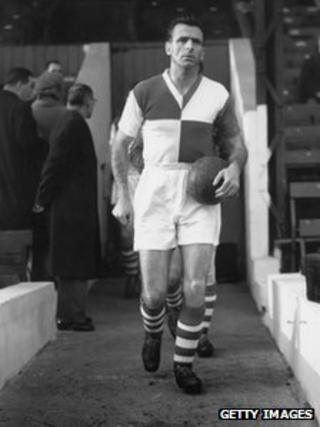 A campaign has been launched to erect a life-size model of a Bristol Rovers football legend outside the club's ground.
The appeal, launched on Facebook, is hoping to raise enough funds for a bronze statue of Geoff Bradford.
He played for Rovers in the 50s and 60s and is still the record goalscorer.
Steve Sutor, who came up with the idea, said: "We've never had a statue in Bristol, for Rovers since 1883 and I think it deserves one now."
Bradford, who died in 1994 aged 67, scored 242 league goals for Bristol Rovers between 1949 and 1964 and scored on his sole England appearance against Denmark in 1955.
Mr Sutor said he posted a message on Facebook asking if anyone was interested in erecting a statue of the footballer.
'Should be remembered'
"Within four days 200 people had pledged £10 - so there was £2,000 pledged," he said.
"But he's a legend, he ended up playing for England and he scored and I just think he should be remembered as someone who Bristol Rovers can be proud of.
"And it would be a lovely focal point at the entrance of the new stadium and if they don't get the new stadium they can put it up at the Memorial Stadium."
Bristol Rovers currently play their home games at the Memorial Stadium in Horfield but the club is hoping to build a new stadium at the University of the West of England campus in Stoke Gifford.