Bristol City FC submits revamp plans for Ashton Gate stadium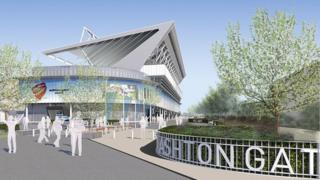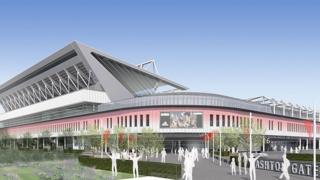 Plans submitted for Bristol City FC's £40m redevelopment of Ashton Gate stadium could be approved by October.
Bristol Sport Ltd (BSL) confirmed it has submitted plans to replace two of the current ground's stands to increase capacity from 21,500 to 27,000.
In February, BSL announced it was considering redeveloping Ashton Gate as an alternative to building a new ground at nearby Ashton Vale.
If permission is granted it could be ready in time for the 2016-17 season.
Although the club has planning permission for a move to Ashton Vale, it has been held up by a row over a bid for town green status for the area.
In the meantime the club has submitted plans to revamp its existing stadium by replacing the Williams and Wedlock Stands with new facilities and creating a new conference, exhibition and entertainment centre for the city.
The proposal, following a public consultation exercise last month, also includes enhanced disabled facilities, improved public transport links and the addition of rail seating.
The newly-redeveloped multi-purpose stadium would be used by both Bristol City FC and Bristol Rugby Club, both run by BSL.
The planning application is due to be decided in October when an inquiry into plans for a move to Ashton Vale are also due to reopen.