Roman Orpheus mosaic to be displayed at Bristol museum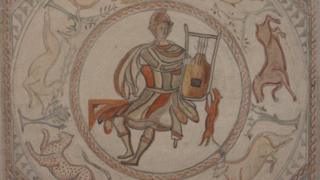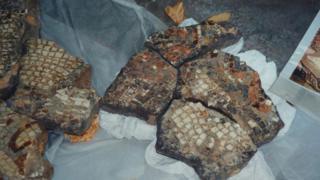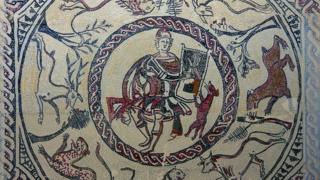 A mosaic floor discovered during the building of the Bristol to Bath section of Brunel's Great Western Railway, in 1837, is going on public display.
The mosaic, one of only nine of its kind, was found in a Roman villa in Newton St Loe.
It illustrates the story of Orpheus, a mythical poet and musician, charming a circle of wild animals.
It will be displayed at Bristol Museum and Art Gallery from Saturday until 12 January.
Roman mosaic floor designs which show Orpheus within a circle of animals are only found in Britain.
'Jigsaw puzzle'
The floor from Newton St. Loe, which is about 16ft sq (1.5m sq), is thought to be the earliest, dating to between the late AD 200s and early AD 300s.
Gail Boyle, the senior collections officer at the museum, said: "It's in several thousand pieces and probably looks like the world's largest Roman jigsaw puzzle."
She said Brunel had wanted to build a museum for all the objects found during the building of the railway, but that never happened.
"Fortunately he had employed an engineer to record the site of two of the mosaics," Ms Boyle said.
"When it was lifted it was lifted very well and the engineer who recorded it took it to Keynsham Railway Station, which opened in 1841.
"It stayed there quite nicely in the floor of the station until 1851. Then somebody decided, for some inexplicable reason, to give it to the Bristol Institution, which was one of the forerunners of what became Bristol Museum and Art Gallery.
"Whoever took it out of the floor of the railway station may have used a pick axe which is why it's so fragmented."
Painstaking job
She said that at that time the museum's curators were natural historians and natural scientists and not interested in archaeology, so the mosaic got packed away in crates.
"Probably for the next 100 years or so everybody thought it was lost and by that stage it was really fragmented and nobody thought they could put it back together again," she added
In 1992, members of the Association for the Study and Preservation of Roman Mosaics began the painstaking job of identifying its fragments.
This resulted in a major project to piece it together, in public, in the front hall of the museum between July and December, 2000.
The reconstruction enabled museum staff to make improvements to its subsequent storage and this ensured it was more easily accessible for conservation, research and display.
The final pieces of the mosaic will be put in place over the next couple of days.
It will then form part of a programme of activity for the museum's forthcoming exhibition Roman Empire: Power and People, which brings together over 160 pieces from the British Museum collections.