Bristol GP in payout for late diagnosis lung cancer death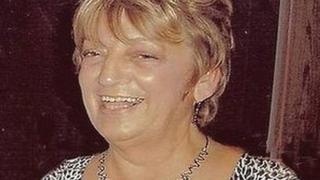 The family of a woman who died of lung cancer after visiting her GP surgery 10 times with a persistent cough has received an out-of-court settlement.
Sandra Martin, 64, from Yate in Bristol, died in October 2011 after it took doctors two years to diagnose her.
The GP involved agreed to pay an undisclosed settlement to the family without admitting any liability.
An NHS England spokesman said the organisation could not comment on individual cases.
Mrs Martin had first gone to her GP in 2006 complaining of a cough that had lasted for four months but, according to her solicitors, she was told everything was fine and given antibiotics to treat a chest infection.
Over the next two years, she made repeated complaints to five doctors and two nurses about her persistent cough but was "fobbed off" with antibiotics and told to "suck ice cubes".
It was not until she insisted on having a chest X-ray in March 2008 that advanced lung cancer was finally diagnosed.
'Still be alive'
Julie Lewis, from her solicitors, Irwin Mitchell, said: "Our expert medical evidence found that had the NHS guidelines relating to persistent coughs been followed with Sandra, she would most probably still be alive today.
"The guidelines are in place for a reason - to protect the safety of patients - and for a GP to completely disregard these is both shocking and deeply worrying."
She said the GP involved had agreed to pay a "fairly substantial" settlement to the family "without admitting any liability".
An NHS England spokesman said: "We cannot comment on individual cases, and our understanding is that this matter has been settled out of court."