Bristol City Council's 'painful' job cuts plan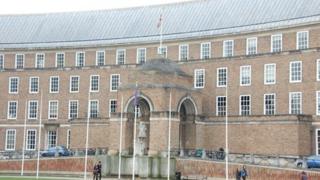 More than 1,000 jobs are at risk at Bristol City Council as part of plans to cut £80m over three years.
Mayor George Ferguson said there would have to be "painful cuts" which he said were "bound to go into four figures".
He said the authority should be "braver" in commissioning services and not always look to the big companies when it could get them locally.
Mr Ferguson said he wanted the voluntary sector to play a bigger role in the delivery of public services.
"We've got to be pretty clever about it [the saving]... it's [about] greater efficiencies," he told BBC Radio Bristol.
'Massive improvement'
"For example I've doubled the efficiency of our administration office accommodation which had a plan to save £2m a year.
"I've doubled that so by working from two major centres, rather than eight, we're going to save £5m a year
"That's a small saving to the £80m but a massive improvement... but I've got to look at all those efficiencies.
"There will be things that have to go, I can't tell you what they are because I don't have them planned."
On 31 March, the city council's employee headcount, excluding education, was 8,052 but this figure includes some employees who do more than one job and are counted twice.
It also had 1,186 vacant full-time equivalent posts.