Bristol ferry company raise more than £250k target to save service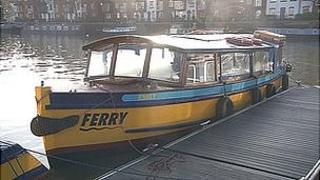 A ferry company in Bristol that went into administration has been saved by a community share offer.
Bristol Ferry Boat Company needed to raise £250,000 from investors by 31 July, but by Monday morning it had unofficially topped £300,000.
Ferry boss Ian Bunguard said more than 600 people had bought the shares - starting at £100 - with many being bought by people living in the city.
He added the ferry was now in a very strong position.
Massive support
"Because we've raised more money than we needed for the offer we'll have to reallocate some of the shares as we can't go over £250,000," he said.
"We had a lot of interest over the weekend at the Harbour Festival where we had a stand and there's been a massive amount of support.
"Dozens of applications have arrived in the post this morning - we're aiming to get the ferry being owned by as many people as possible."
Bristol Ferry Boat Company went into administration last year but its five blue and yellow passenger boats were bought by a consortium of investors.
Shares, starting at £100, were floated by the newly created Community Benefit Society and will be available until the end of July.
Two other ferry services currently operate in the city.