Cyclist rides and runs Gromit trail in one day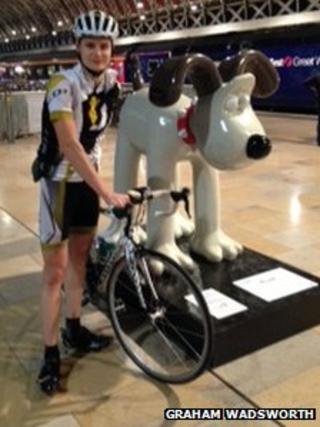 A man has cycled and run 220 miles (354km) in a day to visit 80 sculptures of the animated character Gromit.
Graham Wadsworth, 30, left Paddington station in London at 00:01 BST on Saturday and stopped at every statue, finishing the challenge 16 hours later.
The decorated sculptures form an arts trail and are on display for 10 weeks before being auctioned off in aid of the Bristol Children's Hospital.
Mr Wadsworth's challenge has so far raised more than £8,000 for the cause.
The majority of statues are dotted around Bristol but several have been placed further afield, including Paddington Station, Westonbirt Arboretum in Gloucestershire and Cheddar Gorge in Somerset.
'Five hard climbs'
Mr Wadsworth, a personal trainer and endurance coach, said he had been thinking of a way to say thank you to the hospital for caring for his son Luke, who underwent open heart surgery there when just eight days old.
He said on his website that the hospital staff were "truly incredible" and without them it was "no exaggeration to say that Luke would not be alive today".
One of his highlights of the journey was the unexpected yet "phenomenal" help he was given from Bristol Road Cycling Club.
"I don't know them, I'm not a member, but they'd heard about the challenge and they met me in Chew Valley and paced me around the Mendips.
"The last 50m (80km) was the hardest, with five hard climbs including the Mendips, the A38 to Bristol Airport and Ashton Court."