Shrien Dewani 'wishes' to fight South Africa murder charges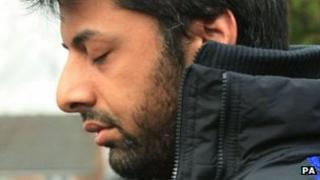 A honeymoon murder suspect who has mental health issues has talked about returning to South Africa to fight the charges against him, a court has heard.
Shrien Dewani's post-traumatic stress disorder (PTSD), depression and risk of suicide have all improved, Westminster Magistrates' Court has been told.
The 33-year-old from Bristol is facing extradition over charges that he arranged the murder of his wife Anni.
He has been excused from attending a five-day extradition hearing in London.
Extradition oppressive
Anni Dewani, 28, was shot when a taxi the couple were travelling in was hijacked in a township on the outskirts of Cape Town in November 2010.
Her husband faces charges of murder, conspiracy to commit murder, robbery with aggravating circumstances and obstructing the administration of justice - all of which he denies.
Mr Dewani is currently receiving treatment at a mental health hospital near Bristol.
Hugo Keith QC, on behalf of the South African government, told the court it would not be "oppressive" to extradite him.
"We suggest that there has been significant and sustained improvement (in his depression), largely as a result of the administration of drugs but also due to the grounding techniques and coping therapies which he has acquired during his time at Fromeside and more recently at Blaise View since his transfer to Blaise View in January this year."
The court heard Mr Dewani's depression was now moderate rather than severe, his PTSD was found to be "considerably less" and he no longer made active references to suicide.
"There are more positive observations about how he wishes to return to fight the case against him," added Mr Keith.
Single jail cell
Although Mr Dewani is not fit to plead, Mr Keith said that should not stop the extradition process.
His lawyers have previously claimed that he would be a high suicide risk if extradited and that his human rights could be violated, due to the risk of attack and sexual assault, in a South African prison.
However, reassurances have been offered by the South African government that, if Mr Dewani was found to be ill, he would be admitted to a mental health hospital or remanded in a single jail cell.
The opening of the five-day extradition hearing was attended by members of Ms Dewani's family, including her father Vinod Hindocha, sister Ami Denborg and brother Anish Hindocha.
Mr Dewani's father Prakash and brother Preyen were also at the court.