Bristol First bus fare consultation now closed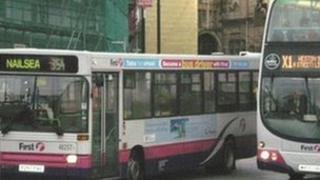 A public consultation on First's bus fares in the greater Bristol area has closed.
Over the past 12 weeks the transport company has been asking for views on its fares in the city.
More than 6,500 people have completed an online questionnaire set up by First as part of a review of the issue.
First said the study aimed to re-establish "a greater sense of value for money" following pressure from campaigners.
Earlier in the year, some 3,800 people signed a petition urging the government to force the firm to lower its fares.
Bristol mayor George Ferguson said the campaign had "brought fear" to First and the council had noted fares in Bristol were "significantly more expensive" than in other cities.
As well as the online survey, several public events have been held over the last three months to gather feedback as part of the review.
First said all feedback from its survey would be processed by MVA, an independent transport consultancy, and any resulting changes could come into effect the autumn.