Children's underpass mural covers graffiti in Nailsea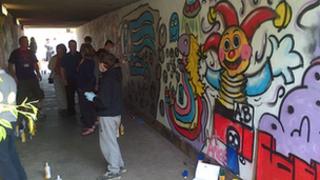 Children in Bristol have painted a mural on an underpass blighted by graffiti and anti-social behaviour.
Eleven youngsters, aged between 13 - 15, were responsible for the mural on the Mizzymead Underpass in Nailsea.
Avon and Somerset Police said the graffiti had been "unsightly" and made some residents fearful of using the underpass.
North Somerset Council gave permission for the project by Nailsea School and the local neighbourhood police team.
A spokesman said it offered an opportunity for young people to "take pride" in their area and to stop them committing anti-social behaviour.
He said: "The underpass is an area which has suffered from graffiti in the past, the lights get smashed up and residents have told us they are scared to walk through it.
"We hope that by designing and painting their own mural, the kids will be less likely to graffiti the area.
"It may also make them protective over their work so that they take ownership and stop their mates from defacing it."
Police and Crime Commissioner Sue Mountstevens said: "It's great to see young people tackling the issues that affect them and their local area in such a positive way."