Bristol Royal Infirmary front designs shortlisted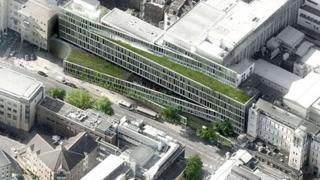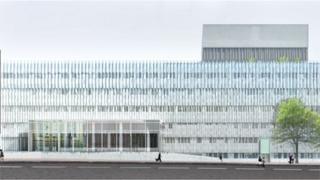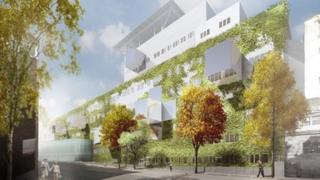 Three designs have been shortlisted for the transformation of the Bristol Royal Infirmary (BRI).
The three architects have further developed their designs following feedback from the public and the panel overseeing the project.
The shortlisted designs are by Madrid-based Nieto Sobejano, Stockholm-based Tham and Videgar, and Idenburg Liu in New York.
They will now go on public display for people to comment on them.
The designs will be at Cabot Circus on 1 July and in The Architecture Centre until 7 July.
Robert Woolley, chief executive of the hospital trust, said: "These designs further enhance our vision of matching the quality of our buildings with the quality of the care we provide inside them.
"We want to ensure that, what can be an anxious time for people, coming into hospital is not made worse by a poor first impression."
University Hospitals Bristol NHS Foundation Trust decided to overhaul the front of the BRI building after discovering structural work was necessary to make it safe in the long-term.
It launched a competition at the end of last year. Six international artists and architects put forward designs to improve the appearance of the front of the BRI.
The proposed redesign forms part of a wider £80m programme of work that includes a new ward block, helipad and welcome centre, due to be completed in 2014.
The BRI Queen's Building on Upper Maudlin Street was once voted one of the ugliest in Bristol.