Bath Royal Crescent museum to show servant quarters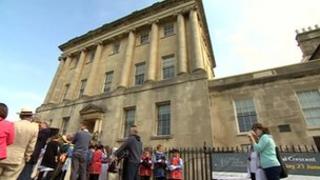 A museum in Bath that shows how middle-class people lived in Georgian times has reopened after a £5m refit.
No. 1 Royal Crescent depicts life as it would have been in a fashionable townhouse in the 18th Century.
The project included the purchase and restoration of the original servants' wing at No.1A and its reconnection to the main house.
This will give visitors a greater insight into life below stairs, as well as above.
The Bath Preservation Trust attraction will now reveal more than double the original amount of dressed rooms, plus original corridors, coalholes, servants' stairs and scullery.
A modern space has also been created, providing an area for exhibitions, a museum shop and improved disabled access.
'Authentically restored'
The townhouse museum was officially opened by food writer and broadcaster Mary Berry, in front of those who have contributed to the restoration project.
Edward Bayntun-Coward, chairman of the trustees of Bath Preservation Trust, said: "Residents and visitors to Bath have witnessed an eight-month period of closure and some intense renovation works taking place to both buildings, but reopening to the public is actually the culmination of a six-year project of vision and determination.
"We are very proud of how the original house has been authentically restored to reflect how it would have been during its first 20 years of occupancy - 1776-1796 - based on the exciting discovery of original descriptions and evidence."
No. 1A was bought in 2006 by the Brownsword Charitable Foundation with the intention that it should be reunited with No.1 as an extended historic house museum.
The work was partly funded by the Heritage Lottery Fund, which gave £1.4m towards the £5m project.
Simon Timms, chair of the Heritage Lottery Fund South West Committee, said: "The Royal Crescent is one of the greatest examples of Georgian architecture to be found in the United Kingdom and we are delighted see it fully restored and open to the public once again."