Bristol Galleries giant TV screen objections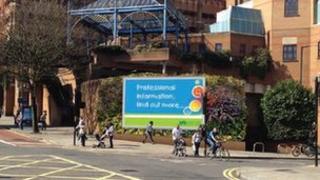 Plans to put a large digital television screen at The Galleries shopping mall in Bristol city centre have attracted opposition.
Ocean Outdoor has submitted a planning application for the illuminated board to be erected at the corner of Newgate and Fairfax Street.
The company said the screen would be built within a "living green wall" and used for commercial displays.
But the Bristol Civic Society said it would be too bright.
In a letter to the city council's planning department, the society's Peter Brown said the LED lighting of the screen would be visible "from great distances".
'Harmful to spirit'
Another concern raised was the proposed location of the screen which he claimed would be damaging to a large section of Castle Park, which is within a conservation area.
Mr Brown also said the screen would shine directly at the Bristol Marriot Hotel, and would impact on visitors, be "harmful to the spirit of Bristol and is the antithesis of the kind of city we are trying to foster".
He added: "There are no commercial screens of this kind in Bristol as yet, and Bristol Civic Society is very keen to ensure that this remains the case."
Agents HSR acting on behalf of Ocean Outdoor said the screen would be internally lit with static lighting without any light spill, glare or dazzle.
The council said a decision would be made on the application by mid-July.
A similar public screen in Millennium Square on Bristol's Harbourside is run by the council.