Bradley Stoke war memorial to be erected for 'those yet to die'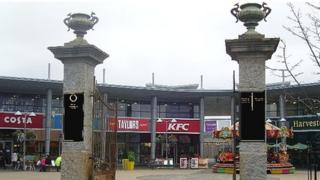 A war memorial is to be erected in a new town in South Gloucestershire despite it having no military personnel killed in action to dedicate it to.
Plaques are to be placed on pillars at Willow Brook Shopping Centre in Bradley Stoke in time for Remembrance Sunday.
Organisers say the new memorial is a "provision for servicemen and woman who do still fight and lose their lives".
Roger Duddridge, from the Royal British Legion, said it was only a war memorial if local people had died in conflict.
Granite plaques, inscribed with the words "We Will Remember Them", are to be placed on two existing pillars at the entrance to the shopping centre.
And with "few restrictions on inclusion" on the memorial, organisers are asking local residents to nominate their friends and family who were war veterans and have since died, or civilians in conflicts, for consideration.
Wartime farmland
Katherine Robinson, local scout group leader and one of the organisers, said the memorial was to "pass on the tradition" of remembrance to the next generation and be a "visual focus for the town".
"I fully appreciate that Bradley Stoke is a new town and it was just green fields and farmland when the first and second World Wars were being fought," she said.
"But we know unfortunately that conflicts aren't just consigned to these wars but are ongoing and so we're thinking about the future as well.
"So although Bradley Stoke did not exist physically during the wars - I think it's very important that we do have this in the town."
'Not a war memorial'
But Mr Duddridge said the Bradley Stoke War Memorial could not be called a war memorial.
"I'm pleased that any memorial is produced for remembrance - we like everyone to remember the guys and the lasses who have fought for us and unfortunately lost their lives," he said,
"And it's nice that any village, town or city are producing any memorial.
"But you can only call it a war memorial if names are put on there of people who died within the parish."