Breakdancing Jesus mural unveiled in Bristol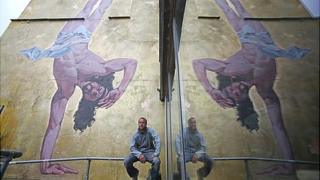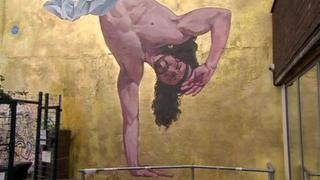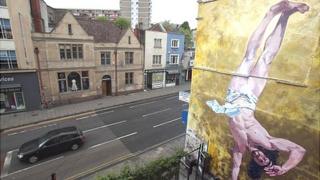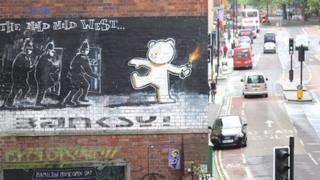 A giant mural depicting a breakdancing Jesus has been unveiled on a wall in Bristol.
The work, by Cosmo Sarson, is sited on an 8.5m (28ft) wall opposite Banksy's Mild Mild West in Stokes Croft.
Inspired by an event in the Vatican in 2004 which saw breakdancers perform for Pope John Paul II, the work took a week to complete and contains over 1kg (2.5lbs) of gold glitter.
"It was quite an epic thing but I think I've pulled it off," said Mr Sarson.
The artist was commissioned by the Canteen diner to paint the wall, which is directly opposite Banksy's depiction of comic policemen and a bear.
'Religious tolerance'
"It's one of the most prestigious walls in Bristol - obviously there's a Banksy and it's quite a desired spot in Stokes Croft which has a big reputation for painting and murals," said Mr Sarson.
"But I'm very relieved. It's been hard painting in public - a lot of eyes on me - and it was quite an epic thing."
The new mural, according to James Pike from the Canteen, "represents everything Bristol should be proud of" and will remain on the wall for two years.
"We have a proud history of religious tolerance, incredible cultural diversity and a vibrant creative history," he said.
"Breakdancing Jesus is a celebration of that."