Turner Avon Gorge painting acquired by Bristol council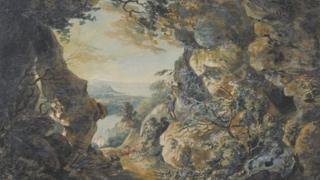 A watercolour of Bristol's Avon Gorge by the artist JMW Turner has been acquired by the city council.
The picture, which was painted by a 16-year-old Turner during a family visit to the city in about 1791, was purchased at an auction in March.
The painting sold for £40,000, although the council did not spend any of its own money.
Bristol museum curators are to examine the work before deciding on a date for public display.
The painting, which had been in a private collection since 1951, was painted when the teenage artist stayed with the Narraway family, who were friends of his father.
They nicknamed him "prince of the rocks" as he spent so much of his time in the gorge. The sketchbook of his visit is kept in the collections at Tate Britain.
Julie Finch, from Bristol Museum, said: "We hope that this acquisition will be of great interest to our national and international visitors.
"The watercolour will help to explain and illustrate the aesthetic and historical relevance of the Bristol landscape and will put Bristol Museum and Art Gallery and the city on the map as a destination for Turner enthusiasts."
Half of the cost of the painting was provided by by the Art Fund while the Friends of Bristol Art Gallery and the Peter John Blyth Art Fund both contributed a further 25%.