BRI hospital's helipad to cut patient transfer times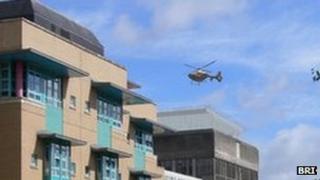 Work has begun on a new helipad designed to reduce patient transfer times for a Bristol hospital.
Currently helicopters land at Clifton Down or College Green. Patients are then taken by ambulance across the city to the Bristol Royal Infirmary (BRI).
Prof Jonathan Benger said the helipad would save lives and improve survival chances and recovery for patients.
The new landing site will sit on the existing roof of the BRI's Queen Building and should be ready from 2014.
It has been funded with £500,000 from the Helicopter Emergency Landing Pads Appeal (Help) and is part of a £110m revamp of the BRI in Bristol.
The appeal is being run by the County Air Ambulance Trust and has previously funded helipads at the Spinal Injuries Unit at Oswestry in Shropshire, Gloucestershire Royal Hospital and Southampton General.
The BRI redevelopment will mean specialist paediatric services will be centralised at the BRI.
A new extension will house children's burns and neuroscience services - meaning the majority of air ambulance transfers will be for children and infants.
The helipad is about 1.5 miles from the landing sites previously used but the journey could often take more than 30 minutes in total to get a patient into the BRI.
Once the helipad is in operation, about 700 people a year will have quicker access to emergency departments, a hospital spokesman said.