Ofsted inspects Bristol's 'less than good' schools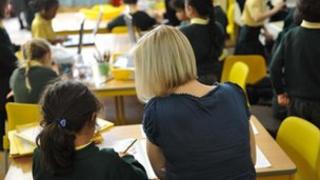 Ofsted has brought forward a round of inspections amid concerns that 32% of Bristol schools are "less than good".
Sixteen schools will be visited this week as the regulator investigates what it has called a "disproportionate number of under-performing schools".
It will also be carrying out telephone surveys of a number of other schools around the city as it works to establish if the picture is improving.
The national average in England is 26% and it is 22% in the South West region.
All types of schools will take part in the inspections - scheduled to take place this academic year - although the majority will be primary schools.
Lorna Fitzjohn, Ofsted's regional director for the South West, said: "It cannot be right that local authorities with the same demographics in terms of population size and levels of deprivation have such varying levels of provision in schools.
"All parents should have the same chance of sending their children to a good or better school but in Bristol the chance of being able to do so is much lower than in other parts of the country."
She added that particular attention would be paid to the support schools were receiving from the local authority.