Ashfield YOI inmates 'had bones broken by staff'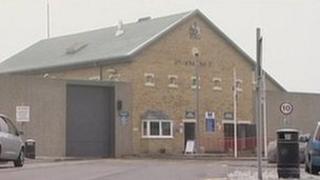 Youth offenders were "exposed to unacceptable levels of violence" at a privately-run institution near Bristol, inspectors found.
Problems had worsened at HMYOI Ashfield since a decision to close it and move inmates, whose safety was "compromised", their report said.
They also revealed two inmates suffered broken bones in separate incidents through excessive force by staff.
Ashfield will become an adult prison housing sex offenders in July.
The inspectors found planning for the closure had not been "effectively co-ordinated" between the Serco-run institution in Pucklechurch and the Youth Justice Board (YJB).
As a result of this problem, they found:
A sharp increase in self-harm incidents since the closure announcement
Two young people had suffered broken bones after use of force by staff
Young people were routinely strip-searched when they entered or left reception
Inspectors said despite the levels of violence, young people had said they "felt safe" but were concerned over access to education for youths who were being transferred from the facility.
Chief inspector of prisons Nick Hardwicke said: "At Ashfield, young people's safety was compromised because they were exposed to unacceptable levels of violence."
He said there was "some evidence the situation had deteriorated", following January's announcement to close the institution.
'Anxiety and uncertainty'
Mr Hardwicke said: "Planning for the closure was not effectively coordinated between the YJB and Ashfield, and the needs of individual young people were not carefully considered.
"The anxiety and uncertainty this created may well have contributed to the tension at the establishment.
"It certainly means that young people were not being adequately prepared for transfer or release."
Responding to the criticisms Ray Hill, deputy chief executive for secure accommodation at the YJB, said: "We accept that at the time of this inspection there would have been a degree of uncertainty surrounding transfer given that the YJB was at the very early stages of implementing this plan.
"Over the past few months we have taken great care to ensure individual plans are in place with extensive consultations with the young people, their families and the Youth Offending Teams (YOTs)."
Serco's prison director Ray Duckworth accepted it had been "a very unsettling period for everyone at Ashfield", since the decision to turn it into an adult prison.
"Importantly [though], the young people at Ashfield did not feel unsafe and we are pleased that the report acknowledges the professionalism of our staff and the efforts that they have made to provide a good environment, access to education and training and systems that address the particularly poor behaviour of some young people," he said.
However Frances Crook, chief executive of the Howard League for Penal Reform, said: "Today's inspection report is the damning postscript to a long story of violence and harm in this privately-run children's prison.
"Far from being a place of security, this was a hotbed of violence and abuse where bones were broken, levels of self-harm soared and children were routinely subjected to invasive strip-searches.
"And yet, when asked by the inspection team if they felt unsafe, the children said no.
"So embedded was this culture of control by physical force that dangerous practices had become normal to them."