Bristol mayor's 'stalker' demands an apology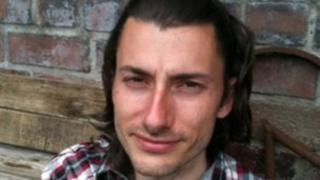 An artist who was called a "stalker" by Bristol's mayor in a secretly filmed conversation has asked for an apology.
Paul Saville, 27, filmed the discussion with mayor George Ferguson about residents' parking zones which resulted in the mayor using a four-letter word.
Mr Saville put the clip on Facebook and it was then posted on Youtube. He said subsequent media coverage has "misrepresented" him.
The mayor said he would not be taking any action against Mr Saville.
The incident happened on Friday at a public event to unveil a sculpture in the city's Bearpit underpass, which is currently being redeveloped.
On the recording - named "Red Trousers, Blue Language" - the mayor is heard calling Paul Saville a "stalker" and said he had been "pestering" him.
Mr Saville said what actually happened was "different to what has been told in the media".
'Serious allegation'
He told BBC Radio Bristol: "I'm not a stalker, first and foremost. I am passionate and I do talk to people. This is the brilliant thing about George - he is approachable.
"But what comes with [being] a public figure is the chance that people will criticise.
"I'm not a stalker of course and that's what I'd really like to have an apology about."
Mr Saville said calling him a stalker was a "serious allegation" and added the real issue for him was "accountability" and the "issue of local democracy".
In a statement, mayor Ferguson said: "I've made it clear that I have no intention of taking any action against Mr Saville.
"That's the end of it as far as far I'm concerned."
George Ferguson, an independent, was elected as Bristol's mayor in November.