Bristol MP says swimming lessons deal 'crushing clubs'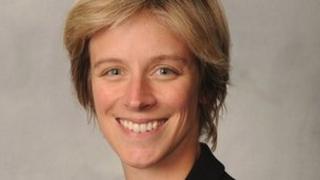 A Bristol MP has described a new council contract which prevents private swimming clubs offering beginners lessons in its pools as "bonkers".
Bristol City Council has awarded a deal so only Sports and Leisure Management (SLM) will be able to provide swimming lessons in council pools.
Bristol North West MP, Charlotte Leslie, said the contract was "crushing really successful classes".
The council said it encouraged some private swimming club lessons.
However, Ms Leslie said some private clubs fear they may be forced to fold as a result.
She has now set up a petition calling on the authority to keep beginners swimming as part of local swimming club provision.
Parents 'choices denied'
Ms Leslie, a former club swimmer, said the situation was "pretty odd" when "what is intuitively common sense is that there's a variety of providers offering learn-to-swim".
"Swimming clubs offer a special provision for children who want to go on to become competitive swimmers," said Ms Leslie.
"Parents should not be denied the choice of having their children learn to swim with either clubs or the big council provider."
A statement from the council said: "We acknowledge that swimming clubs have a valuable role to play, particularly when it comes to providing experience and expertise to more advanced swimmers.
"Local clubs are actively encouraged to offer swimming lessons that develop swimming skills at levels 8, 9 & 10 of the British Gas Amateur Swimming Association Learn to Swim Pathway."
Ms Leslie was due to hold an end of day adjournment debate on Tuesday to look into what she says are "enforced monopolies in council sport provision".