Bristol mayor George Ferguson defends swearing at member of public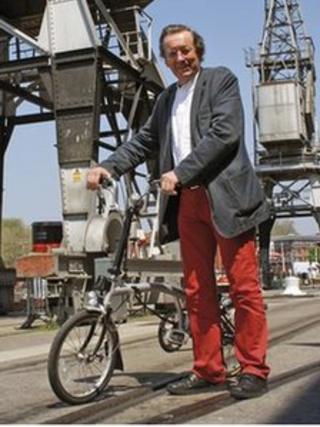 Bristol's mayor George Ferguson has defended swearing at a member of the public who secretly filmed him during a conversation about local democracy.
A video, which shows the mayor using a four letter word, has been put online.
Mr Ferguson said: "I don't apologise, it was a relatively mild reaction to the level of harassment I'd been receiving."
It happened on Friday at an event to unveil a sculpture in the Bearpit underpass, which is being redeveloped.
'Police protection'
The recording, which has been named "Red Trousers, Blue Language" has been posted on Youtube, and is of a long conversation between the mayor and the man, who is referred to as Paul.
The title is a reference to the signature red trousers always worn by Mr Ferguson.
The mayor is heard calling the man a "stalker", adding "you pester me wherever I go".
Mr Ferguson later wrote on his Twitter account that the man had been invading his personal space and preventing him from listening to other people.
He told the BBC it was the fourth time he had been approached by the man at different events.
He said he liked to be approachable and "close to the people".
He said: "I don't have police protection and I don't want it."
George Ferguson, an independent, was elected as Bristol's mayor in November.