Bristol City Council: Labour set to join mayor's cabinet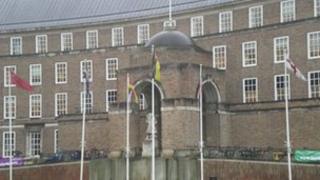 Bristol's Labour party is expected to sign up to the mayor's cross-party cabinet, the BBC understands.
It follows the resignation of the party leader last year when the party's National Executive Committee (NEC) blocked councillors from taking part.
The argument over whether or not to join the cabinet has caused large divisions within Labour ranks.
But now both the party members and councillors are said to be "comfortably" in favour of joining.
They also claim to have the blessing of the governing NEC.
It means Labour would take up two seats on the mayor's cabinet, which is also likely to feature two Liberal Democrats, one Conservative and a Green councillor.
Following the recent local elections mayor George Ferguson said he hoped all four parties would let their members join his cabinet, but added he would continue to take personal responsibility for all major decisions.
Councillor Peter Hammond resigned as Labour leader after Labour's NEC blocked them joining the cabinet in November last year.