Bristol Finzels Reach project in receivership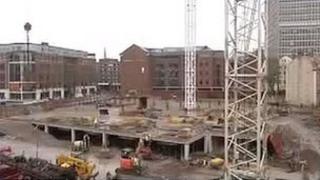 A £255m project to turn a former brewery in Bristol into homes, offices and shops has gone into receivership.
Work at the Finzels Reach site halted some time ago but now receivers have been called in after developer HDG Mansur defaulted on a loan.
Plans for the former Courage Brewery site in the city centre were approved in 2006 but two years ago the developer admitted financial difficulties.
A spokesman for the receivers said the delay in progress was nearly at an end.
The site, alongside the Floating Harbour and between Castle Street and Victoria Street, was named after a Victorian sugar importer who built a factory there.
'Will go ahead'
After the developer failed to repay a loan, the bank involved - Deutsche Postbank AG - appointed Savills to re-market the entire site and project.
Kevin Marsh, from Savills, said: "Initially we will undertake a strategic review of the asset, which will take a number of months and we are not anticipating an immediate sale of the entire scheme or its component parts.
"It is business as usual at Finzels Reach and our appointment means that the delay in progressing this important project is nearly at an end."
The chairman of the West of England Local Enterprise Partnership said he was confident that the development would go ahead.
"It's sad when anything goes into receivership, but what will happen is that someone else will take this on and the development will take place," said Collin Skellett.
"Times are tough out there and things that worked in a good economic climate, don't work in the current economic climate. But the development will go ahead."