Keynsham 1963 time capsule found during demolition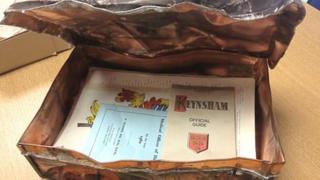 Workmen demolishing the old town hall in the centre of Keynsham have found a time capsule in its foundations.
The metal box, measuring 2ft (0.6m) by 1ft (0.3m), has been in the ground for 50 years containing documents and collectables from the town and time.
Demolition of the building started in October last year as part of a £33m regeneration of the town centre.
Councillor Gill Hellier, chair of the town council, said they knew of a capsule but not its exact location.
Amongst its contents were an official guide to the town, a half crown and threepenny bit, council information, and a copy of a local newspaper dated 30 August 1963.
Mrs Hellier said the contents of the receptacle would be photographed before being buried again with another, more up-to-date, capsule.