Honeymoon murder: Shrien Dewani case to resume as 'health improves'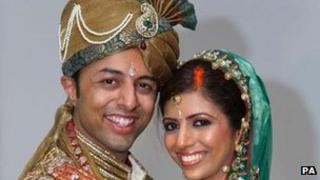 Extradition proceedings against a man accused of plotting his wife's murder are to resume after a court heard his mental health was much improved.
Bristol businessman Shrien Dewani's wife Anni was killed during their honeymoon in South Africa in 2010.
The Westminster Magistrates' Court hearing was earlier told Mr Dewani had been receiving treatment for depression and proceedings could resume in July.
The 32-year-old was excused attendance on mental health grounds.
Mr Dewani denies plotting to kill his wife.
Ben Watson QC, for the prosecution, told the court: "He has improved and improved significantly."
But he said Mr Dewani remained "moderately depressed" and was suffering from post-traumatic stress disorder (PTSD) in the moderate range.
He also said Mr Dewani's doctors reported he had "neither plans nor thoughts to kill himself" but spontaneous self-harm always remained a risk.
Defending, Julian Knowles QC told the court: "There has indeed been an improvement but just to underline, Mr Dewani is still in the moderate range for both depression and PTSD."
Another hearing is planned for the same court on 15 May, ahead of the extradition hearing which is set to resume in July.
Mrs Dewani's body was found with a single bullet wound to the neck after she and her husband were kidnapped while travelling in a taxi through the township of Gugulethu near Cape Town in December 2010.
Mr Dewani had been released unharmed.
Three men from South Africa have so far been jailed for their part in the crime.