Portas fund sparks Bedminster business project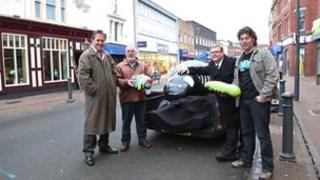 A group of Bristol firms have pooled their resources to run local projects after being inspired by a grant from a Mary Portas town fund.
Large businesses in Bedminster will add an extra 1.5% to their taxable business rate for the next five years and hope to raise £400,000.
Apart from promoting the area, they also aim to boost their collective buying power for utilities they use.
The Portas fund awarded a £100,000 grant to help boost trade in the area.
Chairman of the Bedminster Business Improvement District (BID), Simon Dicken said: "Another part is the grouping together of independent retailers to get a big voice.
"What's been found in the London area where business improvement district areas have been set up, buying departments within those districts have been able to go to gas and electricity suppliers and rubbish collectors and drive down the costs to the businesses."
About one third of the levy will be paid for by the biggest firms in East Street, West Street and North Street.
Smaller businesses will not need to pay the levy but will automatically benefit from the project.
A board made up of businesses, police and councillors has been set up to administer the money.