Secret City Tours tours of Bath run by homeless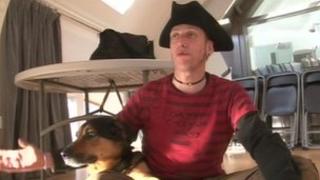 A social entrepreneur at Bath University has started walking tours of the city run by people who are homeless or who have recently been homeless.
Secret City Tours aim to show people the city's history as well as "hidden places" not found on other tours.
Dr Luke Tregidgo, who runs the nonprofit project, said he was using visitors to the city to address its homelessness problems.
He is working with recruitment agency Clean Slate.
"We've got a city that people love to walk around," Dr Tregidgo said.
"We've got year-round tourism, some fantastic sites, but also a massive problem with homelessness, so why not leverage the city's greatest asset - its tourists - to solve one of its biggest social problems?
"Most people come to Bath to see the famous sites, the Crescent, the Roman Baths, the Abbey, so we show them those, but we will also show them hidden places that you wouldn't find on any other tour, and then also a bit about what it is like experiencing being homeless."
The project has received £500 from UnLtd, a government-backed organisation which supports social enterprises.
Dr Tregidgo said the money has enabled him to run a couple of trial Secret City Tours, with further funding available if they go well.
He is also working with Clean Slate who have experience getting people who have been homeless into work.
Three people have been going through the training programme, including head guide Alex Kriszan who is taking the first tour.
'Virtually invisible'
Mr Kriszan, who is now living in a hostel, was homeless in Bath for 18 months after losing the tenancy on his flat.
"I was living in a tent over a very harsh winter," he said.
"It was pretty grim...but it was peoples' attitudes that shocked me most, you become virtually invisible.
"But I have ploughed my way out of it. I have now got myself into a hostel with a view to getting some social housing so I do know about the streets that we will be walking down.
"And when this tour takes off, which I'm sure it will, because it is a fantastic idea, the sky is the limit."
Tour guides, who get paid, also take part in workshops on confidence building and public speaking techniques given by the Natural Theatre Company.
The first tour - lasting an hour and a half - was due to take place on Wednesday followed by the second on 14 April.
There will be one or two tours a week starting outside Bath Abbey, costing £7 for adults and £5 for concessions.