Bristol Technology and Engineering Academy topping out ceremony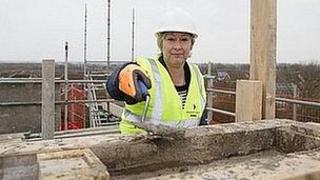 A topping out ceremony has been held to mark a milestone in the development of a £6.8m college in Bristol.
Construction company Wilmott Dixon has reached the highest point in the construction of the Bristol Technology and Engineering Academy in the city.
Representatives from the City of Bristol College, GKN Aerospace, Rolls Royce, Airbus and the University of the West of England attended the ceremony.
Work began last October and is expected to be completed in September.
The new college development includes workshop areas, classrooms, laboratories and indoor sports facilities as well as an outdoor sports area and parkland.
As a University Technical College (UTC) it will offer technically-oriented courses for students specialising in engineering and environmental technology.
It will cater for about 440 fourteen to 19-year-olds from Bristol, South Gloucestershire, Bath and North Somerset.
College principal, Rhian Priest, said: "Applications for the Academy have far exceeded our expectations and we will be full when we open in September 2013."