Dan Farr: The man behind Bristol's Make Fares Fair campaign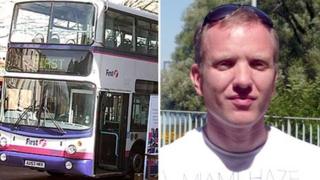 Four months ago, 33-year-old Dan Farr was a nobody on the political landscape.
The Bristol-based campaigner has gone from moaning about bus prices to his family in private to airing his views to councillors at City Hall.
"Once I set my mind to something I usually get it done," he said, reflecting on the Make Fares Fair campaign he launched in his home city.
On this occasion, getting it done has meant turning his personal gripes with bus fares and reliability into a protest involving thousands of others.
Now some 3,700 people - including Bristol Mayor George Ferguson - have signed his petition calling on the government to force the First bus group to lower fares in Bristol.
His campaign has also led to First launching a review of its prices and Bristol City Council debating the issue with Mr Farr invited to address the mayor and councillors.
'Complaining'
"I'm quite quiet really but I think I speak up when I need to," said the graphic designer, who says his main gripe is with "too high" bus fares.
"We pay quite a lot of money. I wouldn't mind if it was a decent reliable service but it's pretty second rate - one of the worst in the country, if not the worst.
"I've been complaining for years to friends and family but never did anything. I put it off."
That was until November last year when, after being challenged by a friend to act on his frustration, he launched a petition calling on the government to force First to reduce its fares in Bristol.
Four months later and, he says, the campaign has become "like a second job" for him.
"I'm always tweeting about the campaign, trying to get more signatures, contacting politicians, or trying to get meetings - just keeping things moving forwards."
Bristol mayor George Ferguson said he admired Mr Farr's work which had done a great service to Bristol and "brought fear" to First bus.
In a statement he said that the council had noted that First's fares in Bristol were "significantly more expensive" than any other cities in the country.
"The council urges First to work with the mayor and party group leaders to deliver a sustainable and affordable price structure for Bristol's bus network through a partnership approach," he said.
The council's backing has been welcomed by Mr Farr but it was First's fare review announcement in January that gave him the greatest surprise.
"I was amazed that one little ordinary guy could get a major corporation to act. It shows how people power can work if you put some time and effort into it," added Mr Farr.
A spokesperson for First said: "We are aware of the Make Fares Fair campaign and we have engaged with Mr Farr to understand his concerns."
The group said it was in the process of booking events around the city to seek feedback on bus fares, and preparing a questionnaire and survey which would be available in hard copy and online.
'Celebrity'
However, it is not a cause that Mr Farr - who works for his father - is willing to dedicate much more of his life to.
He said: "It has been enjoyable but part of me is looking forward to it ending because I can rest and concentrate on my proper day job."
He has not had to spend much financially, but the campaign has cost him time and effort.
It has been worth it though, he believes, with him even feeling at times "like a proper celebrity" as media attention and requests for meetings have developed.
Friends have been supportive and his "really proud" family in Bristol have given him much encouragement along the way, especially from his "sympathetic employer" father who has allowed him time off work to fulfil commitments.
But it is possibly his Spanish wife, particularly, who has inspired the action even within the couple's first year of marriage.
"I used to be more British about not making a fuss, but she's Spanish and if a supermarket were to overcharge her just 5p she would make sure they give the money back.
"I think that has rubbed off on me - I've become more Spanish in trying to stand-up for myself."