Avon and Somerset Chief Constable to focus on spending not cuts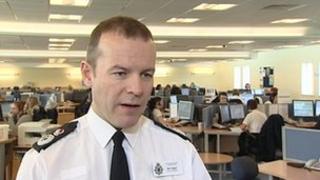 The new chief constable of Avon and Somerset Police has said he would rather concentrate on the £275m he has to spend than worry about cuts.
Nick Gargan was speaking to the BBC for the first time since his appointment almost a month ago.
Mr Gargan said there was "some serious work to be done" setting budgets and priorities.
He said he was busy filling his mind with all the information needed to make those decisions.
"It's a little bit like loading software onto a computer, trying to fill my mind with all the information I need in order to be an effective Chief Constable," he said.
"I want to spend more time thinking about the £275m we will spend rather than the £10m we might have to save, or indeed the £12m we don't get because the national funding formula isn't applied fairly.
"Let's focus on what we spend, let's make sure the back office of the police force runs as smoothly and efficiently as it can, and let's be absolutely determined and rigorous to protect the front line as far as we can in a challenging time."
'Workforce appreciated'
Policing and Criminal Justice Minister Damian Green said there was "no question" that the police would have the resources to do their work and the funding formula was a "complex matter" which would take time to finalise.
Mr Gargan said he would be having "protracted and detailed conversations" with Police and Crime Commissioner (PCC) Sue Mountstevens over the next 12 months as the future of how forces are funded becomes clearer.
"The PCC and I will be talking to our parliamentarians and making them aware of the current issues facing the force and asking for their help in securing a fair funding settlement for the police service in the forthcoming spending review," he said.
"My job, irrespective of what the final decision is, is to get on with what I've got."
He agreed that staff morale was an issue and said the "biggest single thing" he or Ms Mountstevens could do was let the workforce know they are appreciated.
"It's difficult for staff, they're being asked to do the same amount of work and there are fewer people to do it," he said.
"The cuts are hard, but equally people understand that these are difficult times."
Mr Gargan added: "I think people are nervous that if the police service shrinks too much... then we will be vulnerable to greater criminality.
"It's my job to make sure that doesn't happen."
Mr Green said: "Police forces across the country are rising to the challenge of a reduction in budgets.
"The reforms we have made are working and crime continues to fall. I congratulate Avon and Somerset Police Force for the reduction in their area.
"Every police force area will face the same percentage cash reduction over the next year and we are conducting a review of the Police Allocation Formula for future allocations.
"Determining how funding should be allocated in the future is a complex and important matter which requires careful consideration and will take time.
"There is no question that the police will still have the resources to do their important work."