Rolling stock fear over West of England rail franchise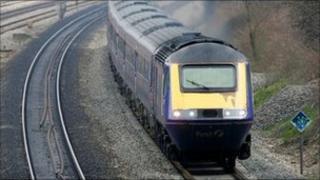 Rail services in the West of England will stagnate following the collapse of the West Coast mainline franchise deal, regeneration experts fear.
The West of England Partnership said it had been told in government talks there would be no investment in rolling stock during an interim two-year franchise.
In October, the government scrapped its decision to award the £5bn franchise to FirstGroup.
The government declined to comment on the partnership's claims.
However, a spokesman for the Department for Transport said it would negotiate an additional two-year current with the current operator in 2014 and it would seek the "best deal for taxpayers while maximising additional benefits for rail passengers".
"The longer-term proposals for the Great Western franchise will be set out in the spring," he added.
The WEP supports economic growth and investment in the region and represents the four unitary authorities for Bristol, Bath and Weston-super-Mare.
It said during talks the DfT "indicated there will be no service enhancements or additional rolling stock for the West of England area".
Julia Dean, from the WEP, said they were "disappointed" as rail travel was growing in popularity and there was already over-capacity on some lines.
Rob Dixon, from The Friends of Suburban Bristol Railways (FOSBR), said the decision would result in overcrowding along popular routes such as the Severn Beach line, which now attracts more than one million people a year.
He said: "We are concerned the railway is effectively being run from London whereas we want it run by an integrated transport authority based in our area, because we think people around here know what people want."
A spokesman for FirstGroup confirmed it was in discussions with the DfT about the opportunity to continue the franchise for a further two years beyond October 2013.