Bristol City Council webcast watched by three people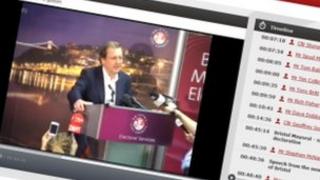 Live online council meeting broadcasts in Bristol have been watched by as few as three people, the BBC has learned.
The city council has been webcasting a range of meetings since 2008 to improve openness and accountability of local decision making.
Other meetings have attracted more than 14,000 live views and the council said webcasting was a "huge success".
Some councillors said the project, which has cost £100,000 over five years, may need to be reconsidered.
A Freedom of Information request has revealed three people watched the live cabinet meeting on 31 May last year about recommendations for improvements to the Carriage Works in Stokes Croft.
Four people watched the live cabinet on 4 July when decisions were made on a new Bristol East swimming pool.
The most watched live webcast - with 14,071 views - was the declaration of the election results for Bristol's first elected mayor in November.
Total viewing figures, which include archived webcasts, were higher with 23,606 watching the mayoral election.
'Pretty dry'
Deputy leader of the Labour group, councillor Ron Stone, said: "I wouldn't recommend [webcasting] for every single committee, some of the meetings are pretty dry and even those of us that need to attend start to lose the will to live, let alone those watching it at home.
"Where decisions are being made, that always provokes an interest.
"But where you're basically going through the mechanics [of getting something passed] there is nothing to watch.
"I certainly think the money is well spent, but it needs to be spread over the issues that are going to trigger public interest."
The authority said the £100,000 cost was offset by a £40,000 European Union grant as part of an e-democracy project.
'Cost effective'
The council said £14,265 was spent on hardware to set up the webcasting unit and cameras, while £73,740 had been spent on software.
Dr Jon Rogers, deputy leader of the Liberal Democrats, said he thought webcasting was worth the staffing costs, which total £2,780 per year.
In a statement, the council said it had received almost 120,000 unique views since it started webcasting.
"It has proven to be a very cost effective way of opening up local democracy to thousands of people who would not have previously attended meetings in person," the council said.
"Even the meetings which attract the smallest live views, were then watched by hundreds through our archive facility."
Public-I currently runs the webcasts with its contract coming to an end this summer.