Keynsham fracking plans put on hold by UK Methane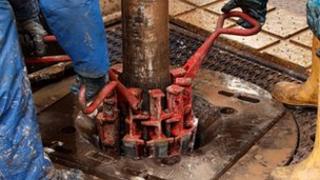 Plans to extract natural gas from the ground near Bristol are to be delayed, the BBC has learned.
UK Methane said that it is focusing its efforts on a planning application in south Wales.
The planning application for Keynsham will not be submitted until the end of this year, at the earliest.
Local residents have expressed concern that the process - known as fracking - could lead to the contamination of the water supply.
UK Methane scrapped plans to test if the land would be suitable for coal bed gas extraction - which did not include the use of fracking - after the government announced it would remove a temporary ban on the process.
A new application for full production, which included permission to extract shale gas using fracking close to the Hicks Gate roundabout, was due to be resubmitted but has been put on hold.
Fracking involves drilling a borehole before a high-pressure water mixture is directed at the rock to release the gas.
Almost 600 residents signed a petition against the initial proposal.
'Totally transparent'
UK Methane director Gerwyn Williams said: "It took quite a long time to put the original planning application in for the coal bed methane exploration in Keynsham, and there was more and more information being required.
"In parallel to that we were carrying out works in south Wales and Kent and things were advancing in south Wales.
"We want to get that work completed first, so we are pushing back any other applications that we may make."
Mr Williams denied the delay had anything to do with opposition posed by local people, who are also concerned about potential earth tremors.
"There is opposition everywhere, that is something we have to address and work in a totally transparent manner and bring people along with us and make them realise what the advantages of this are," he said.
The firm said it also intends to submit an application for a test drill in Somerset but would not reveal where this would take place.
Hydraulic fracturing is widely used across the US to exploit reserves of oil and gas once believed to be inaccessible.
But in the UK, the use of fracking was halted in 2011 after some minor earthquakes near Blackpool, Lancashire, were attributed to test wells being drilled by the energy company Cuadrilla.