Wraxall care home report: Too few staff to meet needs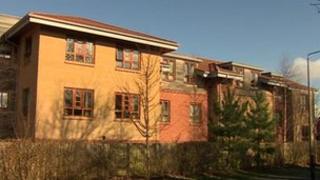 A care home for people with dementia near Bristol does not have enough staff to consistently meet people's needs, an inspection has found.
The inspection of The Granary at Wraxall, by the Care Quality Commission, also found not enough being done to protect people there from harm.
Two members of staff were arrested last month on suspicion of assaulting and neglecting an elderly resident there.
Owner Shaw Healthcare said it took the report "extremely seriously".
The CQC, which visited the home unannounced in January, said it was not meeting five of the six standards it should be and this was having a moderate impact on residents.
Its report said the home was focussing on meeting basic care needs rather than good person-centred support.
'Immediate attention'
Ian Biggs, the CQC's regional director, said this mainly came down to staffing.
He said: "We were concerned that the numbers of staff and the degree of skills that they've got on each shift weren't adequate to make sure people were kept properly safe, but also that people were able to be cared for with the dignity and respect that they deserve."
A spokesperson for Shaw Healthcare said: "The findings of the recent CQC inspection at The Granary have been taken extremely seriously.
"Following receiving a draft version of the inspection report the areas identified as requiring improvement received immediate attention.
"We continue to work closely with North Somerset Council to ensure standards are maintained."
They have been asked to send the CQC a report by 7 March setting out the action it will take to meet the expected standards.
Two members of staff remain on bail after being arrested in February.
They have been suspended from their positions while police continue their investigation.