First birthday for baby boy who was given hours to live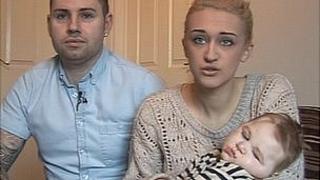 Parents who were told their baby was unlikely to live longer than two hours are celebrating his first birthday.
Ollie Lewis, from Weston-super-Mare, was delivered with the umbilical cord around his neck. He was resuscitated but suffered severe brain damage.
His parents Neil Lewis and Charmaine Malcolm were told it was unlikely he would ever breathe or open his eyes.
St Michael's Hospital in Bristol has admitted making errors and apologised to the family for the distress caused.
Since his birth, on 21 February, Ollie has been blind, had epilepsy and cerebral palsy and will require round the clock care for the rest of his life.
Despite being "very poorly" his parents, who are caring for him at home, say they are "so proud of him and all his achievements" and are hoping "one day he might be able to smile".
"When we were told that Ollie was severely brain damaged and unlikely to live more than a couple of hours we were devastated," said Mr Lewis.
"We had him christened in hospital and then the life support machines were turned off.
"Amazingly, Ollie could breathe on his own, but staff told us it was unlikely to last and to take him home for his final hours.
"So to be able to celebrate Ollie's first birthday as a family is a day we never thought we would see - it feels like a miracle."
'Deeply sorry'
His parents, who have given up their jobs to provide his care, are taking legal action against the University Hospitals Bristol NHS Foundation Trust.
The couple are seeking a settlement to meet the costs of their son's future care.
They claim medical staff at St Michael's Hospital in Bristol failed to notice his heart rate dropping dangerously low during his birth.
Robert Woolley, chief executive of the trust, said a "full investigation into the antenatal care Ms Malcolm received" has been conducted after Ollie's birth and shared with family.
"We have now completed all but two of the recommendations that arose from the investigation and we are working on these longer-term recommendations," he said.
"On behalf of the Trust, I am deeply sorry for the errors that were made and the extreme distress these have caused the family.
"We have apologised to them before and I would like to reiterate our apology as Ollie nears his first birthday."
The couple's solicitor, Julie Lewis from Irwin Mitchell, confirmed that at a complaint meeting held by the trust it had agreed the trust had let the couple down.
She said: "The trust stated verbally that mistakes were made and we are awaiting the formal position to be confirmed by their solicitors.
"Hopefully we can then take prompt steps to arrange a life-long care package for Ollie."