Former Ashfield prison site 'to hold sex offenders' MP claims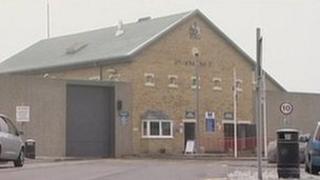 A MP is claiming that a private prison for sex offenders is being set up on the outskirts of Bristol.
Steve Webb, MP for Thornbury and Yate, said it would be set up on the site of the former Ashfield Young Offenders Institution which is closing.
Mr Webb says he understands the majority of inmates will have committed sexual offences.
Villagers living in nearby Pucklechurch were already anxious at the plans to transform the site into an adult jail.
On Wednesday evening villagers met with representatives from the National Offender Management Service.
They had been called to give reassurances over the prison's change of status.
The move was part of a government announcement on the future of the prison service, revealed last month, which will see six prisons in England closed and three partially shut.
In addition, a new "super prison" with 2,000 places is planned in either London, north-west England or north Wales.
Mr Webb told the BBC he understood the plan is that most of the inmates at Ashfield will be male sex offenders.
"There's an issue about how that would be handled in the local community," he said.
"For example when they are released will they be pushed out the door or taken somewhere?
"So there's an awful lot of questions that I think the community needs answers to," the Liberal Democrat added.
Ashfield currently holds youths aged from 15 to 18 who have been detained or are on remand.