Princess Royal visits Bristol drug rehabilitation centre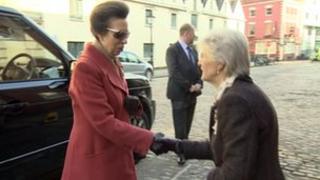 The Princess Royal has met people with drug, alcohol or gambling problems in Bristol to celebrate the 25th anniversary of an addiction centre.
The Addiction Recovery Agency (ARA) in Kings Court currently helps more than 1,500 people a year through its services in Bristol and North Somerset.
Chief Executive Peter Walker said her visit was a "great acknowledgment" of the charity's work.
The Princess Royal also met staff and volunteers and unveiled a plaque to mark her visit.
"[The visit] recognises that with the kind of treatment and support that ARA has provided over the past 25 years, people can overcome problems associated with drugs, alcohol and gambling and go on to lead productive lives," Mr Walker added.
ARA provides a range of community drug and alcohol treatment services together with housing support.
It now employs more than 60 staff, has the support of over 60 volunteers and recently opened a Recovery Cafe in partnership with St Mary Redcliffe Church in Bristol.