Bath police patrol fields after dog attacks on sheep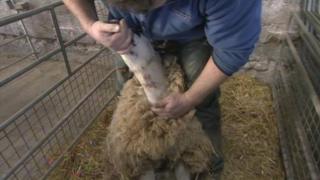 Police are patrolling around Bath after three reports of sheep in the area being attacked by dogs.
Ewes have been injured with bite marks left on their necks and legs and police want to remind dog walkers of their duty as the lambing season begins.
Sergeant Chris Clarke said farmers were within their rights to take action if their livestock is under threat.
A farmer from North Stoke near Bath is concerned that dog attacks could lead to some of his sheep miscarrying.
Keith Harrison has put up warning signs asking people to keep their dogs on leads near his flocks.
He said: "The legislation said we are allowed to shoot dogs which is the last thing I would want to do.
"If I can catch the dog I will, so I can get to the owner and make them realise what their dog has been doing, because a lot of them are unaware of it."