Anni Dewani murder: Husband's health 'deteriorates'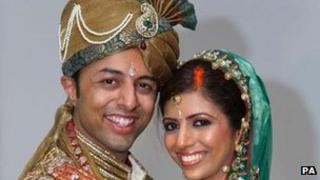 A businessman wanted in South Africa over the honeymoon murder of his wife has been admitted to hospital after his health "seriously deteriorated".
Shrien Dewani's wife Anni was shot when a taxi the couple were travelling in was hijacked in November 2010.
He was being treated in a secure mental health hospital for depression and post-traumatic stress disorder so he can be extradited to face the charges.
But his family said he had been moved after suffering chest pains.
They said he had been transferred to a different hospital after tests suggested he had reacted poorly to medication prescribed as part of his mental health treatment.
Mr Dewani, 32, from Bristol denies plotting to kill his wife.
His family said his bail conditions had been altered at a hearing at Westminster Magistrates' Court.
'Reaction to medication'
A statement from the Dewani family said: "Shrien's health has seriously deteriorated.
"He was admitted to hospital last weekend suffering from severe chest pains.
"He also has a raised creatine kinase level, indicative of another poor reaction to the medication he is being prescribed to improve his mental health.
"We are relieved that doctors have managed to stabilise him. We are extremely grateful for the swift action of the hospital staff and are hopeful of a recovery."
In March, the High Court ruled that it would be "unjust and oppressive" to extradite Mr Dewani to South Africa, as his mental condition had deteriorated since his arrest.
His lawyers wanted proceedings to be halted for a year to give him time to recover.
Plea bargain
But District Judge Howard Riddle has set 1 July 2013 as the date on which proceedings should continue.
Mr Dewani faces charges of murder, conspiracy to commit murder, robbery with aggravating circumstances and obstructing the administration of justice - all of which he denies.
In November Xolile Mngeni, 25, was found guilty of Mrs Dewani's murder by a judge in Cape Town. He was later given a life sentence.
Mngeni's co-accused have said they helped kill Mrs Dewani, 28, on the orders of her husband.
Taxi driver Zola Tongo says he was approached by Mr Dewani to organise the killing and make it look like a carjacking. He was sentenced to 18 years in prison following a plea bargain.
In August, Mziwamadoda Qwabe was sentenced to 25 years in prison after admitting shooting Mrs Dewani.