Bristol harbourside bus route changes agreed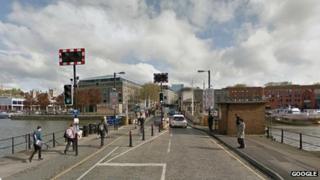 Plans to change the routes of two new rapid bus routes in Bristol have been agreed in principle.
The city's elected mayor George Ferguson previously said he did not want buses running across Prince Street bridge or through the harbourside.
But opponents of his plans said the city risked losing some £140m for transport projects.
The changes were agreed with transport minister Norman Baker following a meeting on Tuesday.
Mr Ferguson said a "number of potential improvements" would give a better connection on the route between Long Ashton and Temple Meads railway station.
"This helps burst the bubble of those who have been claiming that my appetite for changes to the route around the harbour would mean the Department for Transport withdrawing all the money," Mayor Ferguson said.
"There are huge potential improvements to be gained in terms of route, vehicle and nature of the scheme with better connection to Temple Meads."
But one of his unpaid transport advisors, Pip Sheard, resigned following the meeting with the minister.
"I'm very sorry that without even waiting for an update at this afternoon's gathering of the transport advisers Pip Sheard has tendered her resignation," Mr Ferguson added.
"But she is asking for what would amount to an illegal change of transferring funds to other modes of transport, however desirable that might be."
Ms Sheard said she had resigned because she wanted a "proper discussion" on the options and "the advisory group didn't look like being the proper forum for that".
"We were going to be given a chosen option with very little opportunity for putting forward alternatives and what we need here is a genuine debate on which is the best public transport route," she added.