Bristol bus fare demo takes place at city's bus station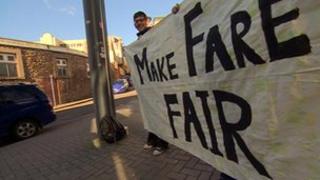 A protest has taken place outside Bristol's bus station against the West's biggest bus company, First.
It was organised by Daniel Farr from Make Fares Fair, who has started a petition calling for the price of bus travel to be lowered.
The petition has gathered almost 3,000 signatures, including that of Bristol's elected mayor George Ferguson.
First agreed to an independent review of its ticket prices around Bristol earlier this week.
'People are angry'
"We're really pleased that First have said that they're going to have a review, but basically we'll believe it when we see it," said Anna McMullen from the campaign.
"We think that now is still the time to put on pressure and to let them know that Bristol people are angry and they want to see change."
Conservative MP for Bristol North West Charlotte Leslie, who attended the protest, said: "One of the things we need to do is look at all sorts of types of transport, take people off the roads and out of their cars and make it easier for bus operators to operate in the city."
In a statement, First said it fully respected the right of people to protest peacefully but asked them not to block the bus station and not to delay any services.
"We have understood the level of concern that there is locally about the perceived cost of bus travel," the statement said.
"In response to this we have announced our intention to run a public consultation on the issue and also undertake a structural review of bus fares."
The company encouraged local residents to take part in the consultation process, which it said would take a "third party" about six months to complete.