Bus fares criticised by Bristol MP Stephen Williams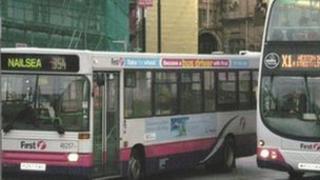 A Bristol MP has criticised the prices of First Bus fares and called on the company to make them more affordable.
Stephen Williams has tabled a House of Commons early day motion which says the city's economy and environment is suffering because of the firm's prices.
"I want bus fares to be as affordable as possible so that passengers have a genuine choice about how to meet their travel needs," he said.
A First Bus spokesman said he understood the concerns.
"First is totally committed to working with the city's MPs, the mayor and the council to ensure Bristol has an excellent public transport network," the spokesman added.
"It is clearly for politicians to consider how best the city can play its hugely important part in delivering this."
Local needs
A recent public petition about the company's fares has gained 2,600 signatures including that of the city's mayor George Ferguson.
"Bristol's economy and environment suffers from poor public transport; we have high bus fares from a monopoly provider and far too few passenger trains on our local rail network," Mr Williams added.
"First Bristol set bus routes according to their needs and not the needs of local Bristol constituents.
"Bus services should suit the needs of those who might otherwise use their cars for short journeys and not benefit the service providers."
The early day motion was co-signed by Bristol north west MP Charlotte Leslie.