Bristol City Council cabinet final members announced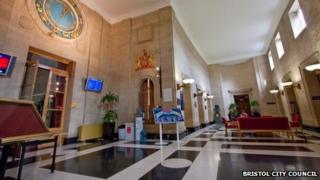 The final three posts in Bristol City Council's cabinet have been filled, Mayor George Ferguson has announced.
He had struggled to find councillors to take on three cabinet positions after Labour decided not to take part in the arrangement.
Liberal Democrat councillors Barbara Janke and Guy Poultney will take on health and social care, and housing and planning, respectively.
Conservative councillor Alastair Watson will look after education.
Mr Ferguson will remain in charge of transport.
It means three Liberal Democrats, two Tories and one Green make up the cabinet which is likely to change again after the May local elections.
'Under a bus'
Labour, who came second in the mayoral vote, refused to join the cross-party cabinet.
Mayor Ferguson said he was "somewhat relieved" to finally announce the full cabinet line up.
"I was hoping for an all-party cabinet, but following clarification from the new Labour leader Helen Holland that their decision cannot be revisited until after the May elections, I have decided to fill the remaining seats.
"I am also grateful to Geoff Gollop for agreeing to become my deputy mayor, and who will therefore take over should I carelessly go under a First Bus," he added.
Peter Hammond, former leader of the Labour group, resigned in November after Labour's governing body, the National Executive Committee, overruled a decision by party councillors to join the cabinet.
The rest of the cabinet is made up of Gus Hoyt for the Greens, Simon Cook for the Liberal Democrats and Conservative Geoff Gollop.
Mr Hoyt is in charge of environment and neighbourhoods, Mr Cook is responsible for arts and culture, and Mr Gollop heads up finance.