More snow wardens sought for Bristol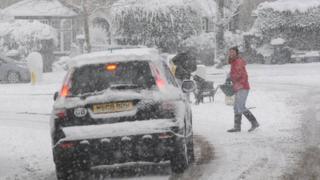 Bristol is looking to double the number of snow wardens in the city.
At present there are 42 volunteers who help treat minor roads, steep hills or junctions which conventional gritters cannot get to.
Civil protection officer Jim Gillman said the scheme was set up last year as a pilot after the local authority had seen how well it worked in Sheffield.
He said although there had not been much snow then they had been "worth their weight in gold" this year.
Snow wardens are supplied with a fluorescent jacket, snow grips for their shoes, a shovel and have a supply of grit delivered nearby.
They work in teams of two or three to clear snow and ice from pavements and help spread grit on back streets.
'Real difference'
"We are currently looking for volunteers in the St Andrews, Bishopston, Windmill Hill, and the Berkley Road areas, but we're keen to hear from all volunteers particularly if you live in a hilly area of Bristol," Mr Gillman said.
"The big gritters do the main bus routes around the city and we redeploy some staff who normally clean the streets or look after parks to help in areas around schools or hospitals.
"The snow wardens generally do the bits in areas where the council is not resourced or obliged to clear."
He added: "They make a real difference to the community."
Anyone wanting to volunteer is asked to contact the council or attend a meeting at City Hall (formerly the Council House), College Green, Bristol, at 18:30 GMT on 24 January.